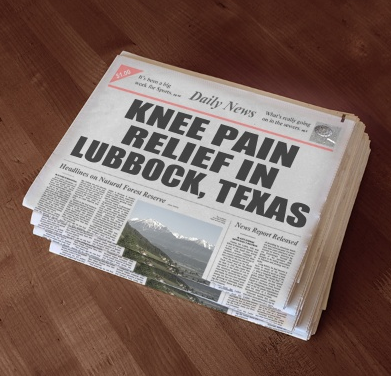 Lubbock, TX:  What if this non-invasive, no-drug solution had no side effects and was proven to decrease pain in TWO TREATMENTS OR LESS!
What if it could reduce pain, swelling and improve range of motion?  Imagine being able to get out of bed in the morning and simply walk across the room without considering the "warm up process" needed to start the day.  How about being able to go up or down stairs with no more discomfort?
There is a new program that is taking the chronic knee pain population by storm.
It can help people with:
Knee pain
Cartilage damage
Bone-on-bone disease
Tendonitis
Bursitis
Crunching and popping sounds
Let's face it, as one ages their knees aren't as young as they used to be and playing with the kids or grandkids isn't any easier either.
Maybe knee discomfort keeps one from walking short distances or playing golf like they once could.
Nothing's worse than feeling great mentally, but physically feeling held back from life because one's knee hurts and the discomfort just won't go away!
Dr. Andre Broussard, D.C. has introduced a Non-invasive, No-Drug Knee Solution Program here in Lubbock and he has seen hundreds of people with knee problems leave the office in less discomfort in TWO VISITS OR LESS.  In fact, he promises that if you don't see results after just two treatments, he will not accept your case.
RESULTS IN TWO VISITS OR LESS OR NO COMMITMENET TO CARE
The Non-Invasive, No-Drug Knee Solutions Program combines MyoNeural Reduction and Inductively Coupled Pulsed Electromagnetic Field Therapy (PEMF) with special rehabilitation activities to, reduce discomfort, increase mobility and strength and eliminate chronic inflammation.
First we start with a thorough neuro-kinetic chain assessment.  This is the newest way of evaluating the knee and structures that influence knee function.  Nothing is missed.
Nerve, joint and muscle function from the lower back, hip, knee, ankle and foot are all assessed.  We often see problems with areas that are distant form the knee.  By addressing these biomechanics and neurologic issues, the best possible outcomes are achieved.
MyoNeural Reduction is a neuro-kinetic, sensorimotor treatment which instantly relieves discomfort and increases strength and movement.  The complex procedures used in MyoNeural Reduction retrains the way the brain communicates with the muscles of the knee, eliminating the abnormal forces thus decreasing discomfort.
The Inductively Coupled PEMF Therapy can penetrate into the knee without causing any discomfort.  Once the PEMF energy strikes the target tissue three things occur:
Discomfort relief by calming irritated nerve endings.
Decreased inflammation.
Accelerated tissue repair. Studies have shown that PEMF energy can even repair damaged tissues.
MyoNeural Reduction and the powerful PEMF therapy are both outpatient, non-invasive procedures, used in our office to decrease inflammation and accelerate the healing process.
THE BENEFITS ARE INSTANTANEOUS AND SEEN IMMEDIATELY
MyoNeural Reduction and the Pulsed Electromagnetic Field Therapy offer a non-invasive treatment system to promote healing for those who suffer from discomfort in muscles, nerves, and joints, like that associated with chronic knee discomfort.
These techniques have been used for almost 40 years worldwide, as well as by NASA, US and British Military, Harvard Medical School, Olympic Teams, premier division football teams, and specialized clinics.
Professional athletes, Olympians and the military depend on MyoNeural Reductions to treat their injuries.  These guys use these techniques for one reason only…
IT PROMOTES HEALING OF THE INJURED TISSUES
This discomfort-free, non-surgical approach works by stimulating the body's natural healing processes, providing discomfort relief and promoting tissue and tissue repair.
The leading edge approach has an impressive success rate of returning patients to work, sports, and competitive activities, as well as everyday life.
Patients treated with MyoNeural Reduction and the Pulsed Electromagnetic Field Therapy often show a higher level of function, both during and after the treatment period.
This non-invasive, no-drug approach provides a tremendous alternative for those with few treatment options or those facing surgery.
PILLS CAN BE MAKING KNEE DISCOMFORT WORSE
For those taking pills for knee discomfort, it is likely making the problem worse.  Pills, even over-the-counter medications, just mask the problem, and don't fix the knee.
Discomfort is the body's warning sign telling us to take it easy.  If the discomfort is masked with pills, we are likely to do things that can prevent the knee from healing – maybe even damage it further.  Not to mention many of the medications available are quite addicting and have drastic side effects.
WHY SURGERY MAY NOT BE THE ONLY OPTION
We certainly can't say for sure until we meet, but surgery may not be the only option.  For those that go through with surgery, they are looking at time off of work, weeks to months of rehab and quite a bit of an expense.  Why not exhaust all natural, non-invasive options before considering more drastic measures?
KNEE DISCOMFORT IS NOT JUST AGING
No question…if one is having knee discomfort then something is wrong.  It's not normal aging to hurt all of the time.  Discomfort in one's knee isn't just a 'sign of aging'.  It that's true, 360 joints in our bodies would bother us since our whole body is the same age.
COULD THIS NON-INVASIVE, NATURAL TREATMENT BE THE ANSWER TO KNEE DISCOMFORT?
Call to find out a step-by-step process to find out if you qualify for this treatment. This is what Dr. Broussard will do for you…
An in-depth consultation about the problem where he will listen…really listen…to the details of one's case.
A comprehensive neuromuscular examination.
A thorough analysis of the exam, x-rays and findings so we can start mapping out the plan to being discomfort free.
2 FREE VISITS – If this treatment can help you, you'll know in just 2 visits, or we won't accept your case.
He will determine if this amazing treatment will be a discomfort solution, like it has been for so many other patients.
There are two ways to make an appointment to see if you qualify for treatment:
Register now at LubbockKneePainSolutions.com in order to schedule a consultation. If you leave your contact information, we'll call you to schedule your first visit at your convenience.
Call us directly here in Lubbock. Our office number is (806) 796-0098.
Our office is located at 7021 Kewanee Avenue, Lubbock, Texas 79424.
Register today and we can get started with a consultation and exam as soon as there is an opening in the schedule.
Visit www.LubbockKneePainSolutions.com TODAY TO SCHEDULE OUR $47 KNEE RESTORATION EVALUATION + 2 FREE VISITS ($250 VALUE) AVAILABLE NOW.
Our YouTube Channel with more videos:
www.youtube.com/channel/UCIyraJE3J3hxcCjbi8omX_g
Download Info-Graphics comparing Dr. Broussard's Trigenics® treatment to:
Corticosteroid Injections for Knee Arthritis
http://www.lubbockkneepainsolutions.com/trigenics-vs-corticosteroid-injections/
Regenexx® Orthopedic Stem Cell Protocol
http://www.lubbockkneepainsolutions.com/trigenics-vs-regenexx/
Arthroscopic Surgery
http://www.lubbockkneepainsolutions.com/trigenics-vs-arthroscopic-surgery/