Zac and I both strongly believe that the acupuncture and the Page Diet is what finally made the difference for us. We think she is pretty wonderful.
Maybe we will see you soon to start on baby #2???!!!
"Thanks Doc….couldn't have done it without your help!" – Jack Wilhite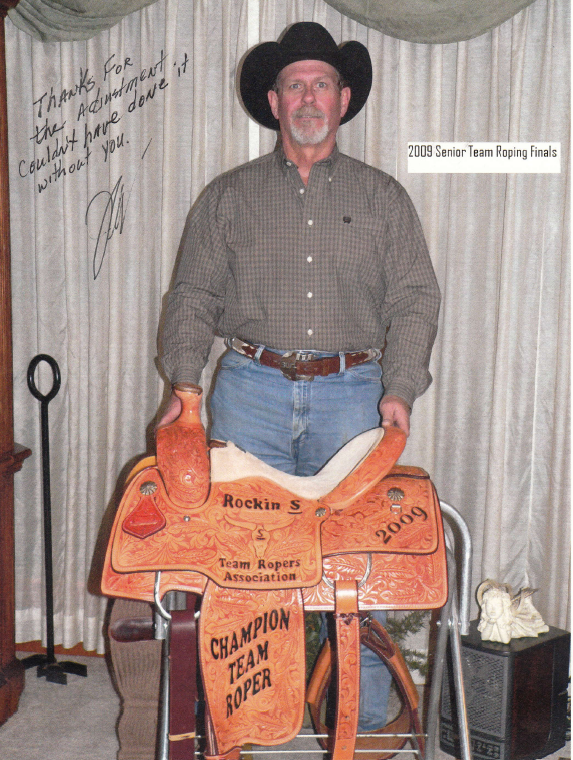 U.S. Team Roping Association, Champion Texas Plains Classic September, 24, 2011 ~Jack Wilhite~
January 8th, 2009
(Another success using acpuncture to increase in-vitro fertilizatoin rates!!!)
I just wanted to let you all know that Bruce and I had a healthy baby boy on Tuesday, December 30, 2008. It was a very difficult c-section as my body did not want to cooperate, but we got Jackson here safely. He was actually losing weight inside me the last couple of weeks before delivery. We went into the hospital early the day after Christmas for constant monitoring and finally delivered on Dec 30. Bruce and I are very proud and thankful that we have our healthy baby at home with us now.
There are many places that we recieved blessings including your treatments, adjustment and accupuncture. My biggest concern coming to you intially was my back pain and the drugs that I was taking to control them and how the pain and drugs would affect me pre and post pregnancy. I'm happy to report that my back at 9 mos of pregnancy was in better shape then it was before I was ever pregnant and taking multiple drugs to control the pain.
Thanks for your thoughts and prayers during this time.
Hope you are all doing well and that you had a Merry Christmas and Happy New Year.
Janice and Bruce (and now Jackson too!)
October 8th, 2008 (Success using acpuncture to increase in-vitro fertilizatoin rates!)
Hi ya'll!!!
I just wanted to say hello and give you guys an update. I have been meaning to call, but have been working full days and by the time I get home and remember to call, it is already late evening. Last time I saw ya'll, I had just started back to work 6 hours per day. I did well with that and was able to build up to working 8 hours per day. I am still on light duty, but stay busy in my day. I get home exhausted, but I think that is pretty normal for a 36 week pregnancy!!!!! So that is the good news! I am due in just a few weeks. I can't believe it is almost here. We wanted to say thank you for all you all did to help us get where we are now! I am a true believer that the accupuncture helped this little guy stick around and I have told that to several friends. Continuing treatments through the first trimester really helped me stay relaxed and calm, and I know that helped too. I am sorry I wasn't able to keep coming the whole time, but we had a run of financial hardship in this last trimester and really had to cut back in spending. Thank you again for the support and for the compassion you all have shown us. We will forever be grateful. And we will be back!!! We have 3 little frozen embryos waiting for us and I will not do in vitro again without combining it with accupuncture. Dr. B- Please share this email with everyone up there! Cindy and Norma are always so sweet to me and I want them to know how much you all have touched our lives.
Sincerely-
Annalisa Riggins
November 29, 2010
Dr. Broussard,
I hope you had a wonderful Thanksgiving. I am thankful that God has allowed our paths to cross. You are the greatest!
~ Pam ~
I came to Dr. Broussard having neck pain, popping in my shoulders, and a radiating numbness down my right arm that persisted for 18 YEARS! I've also experienced lower back pain my whole life. But, it was the numbness in my right arm that was bothering me the most.
My condition progressively got worse over the years, especially in the past 2 years. I'm an educator, and I was having trouble writing because of the pain and numbness. Every time I moved my arm around, it would hurt and pop in the shoulders. I couldn't crochet anymore because of my symptoms, as well as having trouble driving, reading and painting. I was also having problems just caring for my immediate family needs and I had a bad attitude!
I've been to numerous (about 8 family practitioners, 1 orthopedic surgeon, and 1 neurosurgeon without any success or relief! They couldn't really nail down what was wrong, or what do for me. They had me wearing braces and taking ibuprofen, and nothing helped. Finally, my mother suggested I try chiropractic care.
I saw Dr. Broussard in June of 2001, and he evaluated me, and he said I had a pinched nerve, and that he would try to help. He looked at my posture, my spinal flexibility, and took x-ray pictures that showed my problem.
We saw that I had a reversed curve in my neck bones that was applying pressure to the nerves and blood vessels in my neck. Dr. Broussard said that the nerves that come out of the neck, go through the shoulders and down the arm into the hands. That's what was causing my pain and numbness. We began care, and over the course of my care, my symptoms began to slowly subside. Not only did my symptoms virtually cease, the curve in my neck was restored! We fixed the problem, and didn't merely mask the symptoms.
I can now care for my family easier and with a BETTER ATTITUDE! All of my usual daily activities are easier to do now. Now all I have to do is maintain my correction.
Would I recommend others to seek chiropractic care? Yes, and I have. When "conventional" methods don't work or take forever, it can't hurt to try the new. Maybe it will work faster. It did for me!
Sincerely,
Evelyn "Denyce" Perkins
My name is Bill Miller, I'm 77 years old, and I wanted to share my experience at Dr. Broussard's office.
I was referred to Dr. Broussard's office, by a personal friend of mine. I was having very bad, continuous pain down my left leg that was preventing me from walking and standing for a long time. I had that pain for about 3 years prior to going to his office. I'm not exactly sure what caused it, but I noticed this pain while I was on my daily walk.
I saw my Internal Medicine medical doctor, a surgeon and a Pain Management Specialist medical doctor. When I saw a Neurologist, he did some testing on my nerves, and he found some nerve damage. They put an injection into my spine, called an epidural steroid injection, but it didn't work.
About 8 months ago, I came to see Dr. Broussard. He did some painless tests on me. I remember, when doing my posture exam, I began to experience severe symptoms from a heart condition, with high blood pressure being among them. I got very weak and dizzy and had to take my Nitro. Dr. Broussard even had to call an ambulance, I was so weak and disoriented. I was so sick, I had to go to the hospital right away.
But, when I began feeling better from that, I went back to Dr. Broussard's office, and began my care. Over the next few weeks, I began to feel better, and better.
I can now walk a mile or more, and I can stand while working 4 hours each day without pain in my left leg.
MY BLOOD PRESSURE WAS HIGH AND NOW IT'S NORMAL WITHOUT MEDICATION!
When asked if I would recommend chiropractic care to others, I would say so. I recommend chiropractic care because I believe that people can be helped. You haven't tried everything, until you've tried chiropractic.
Truly,
Bill O. Miller